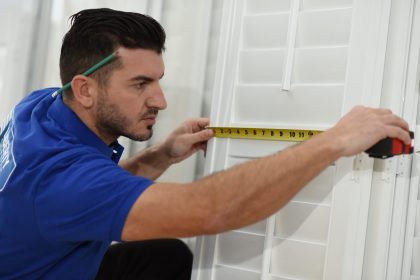 Plantation Shutters near me 2021:  Liberty Shutters
Interior window designs, whether they be: plantation shutters, blinds, shades, awnings, or solar films all protect and beautify your home and your home investment.
Pros of Plantation Shutters
These popular options are so well liked partially because homeowners are able to easily customize their look and have shutters that will perfectly fit their windows.
This is especially true when you work with a company that will come to your home and custom-measure your windows for you.
Plantation shutters look amazing but will also benefit your home in a few ways. Since they are great at keeping out the light from the sun, they will keep your home cooler during the summer and lower your electric bill. This will also protect your flooring, art, and upholstery from being faded by the sun.
They are also incredibly durable and built to last. With no strings that will tangle or fray and no fabrics to worry about fading, these are sturdy pieces of art that will improve the appearance of your home and last for a very long time as long as you care for them.
Because these shutters are generally left behind when a homeowner sells the house and moves, they can actually be factored into the price of the home. This means that they will actually increase the value of your property.
Plantation Shutters Saint Lucie West, Florida
Products that are made in the United States (not just assembled here, but actually made from components that are grown and produced here in the USA) carry some of the most stringent safety regulations on earth. And more to the point . . . plantation shutters that are made in the USA–like all of the plantation shutters that we install in Saint Lucie West Florida homes–are proven to be some of the most durable and harm-free of window designs made anywhere. Protect your home investment and get more from your plantation shutters by insisting on 100% American made materials.
Liberty Shutters is a USA Plantation Shutters manufacturer with factory in Port Saint Lucie, Florida. We made locally shutters and for this reason we provide guarantee on top quality shutters and also we deliver fast only on 4-5 weeks. Liberty Shutters is chosen as fastest plantation shutters company in Florida Area.
You can find plantation shutters in various sizes in order to appropriately accommodate the windows in your home. You can find various slat sizes and arrangements to make sure that you are satisfied with the amount of light that will be coming into your home, among other things. A design expert can help you decide which size is best suited for the size of your windows and for the overall impact when viewing the home from the inside and the outside.
Plantation shutters with fast delivery
American made shutters from Liberty Shutters
4 Weeks Delivery
No more will you have to wait for Chinese shutters to arrive on container ships 2 months later. This is how most companies supply shutters in the USA, but since all of ours are made in the USA, delivery is much faster. Liberty Shutters produce and deliver Plantation Shutters only in 4 Weeks
Easy to Order Plantation Shutters in Liberty Shutters
Just fill the Free Quote Form on our website and we will call you to schedule a Free Estimate and Send you Free Quotes.