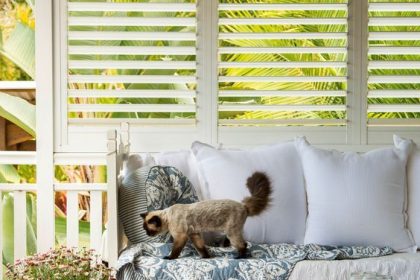 Yes, the reputation is deserved. Plantation Shutters can add value in many ways to your home. It`s worth having plantation shutters installed.
They add curb appeal as they can be seen from the street and instantly say "style" before anyone has entered your home.
Real Estate agents often talk about the "wow factor" when buyers walk into a home and Shutters on your windows in the main living area it certainly delivers the 'wow factor'. They are often listed as the features on a home for sale, right after "European kitchen appliances".
Terrific insulation both in summer and winter. You will notice the difference in how you manage the weather, plus you now get to sleep with a window open and don't have a banging blinds.
They can last a long time. With quality Plantation Shutters for your windows having warranties as long as 25 years, it is a quality window furnishing. (Most blinds are 1 -2 years warranty)
They are one of the more expensive window furnishing available. However, they also last longer than other window furnishings. If you are considering good quality plantation shutters on the Central Coast expect to pay anything from $400 to $600 a square metre. Other additional charges could be for bi-fold, sliding or anywhere else where it requires extra work and componentry. Aluminium Plantations Shutters are slightly more expensive than Wood Plantations Shutters or PVC Plantation Shutters. When you consider your plantation shutters could last you 10 years or more it's worth investing in the best quality you can afford.
Plantation Shutters are labour intensive. To make a quality Plantation Shutter there are a number of steps to assemble it to your exact measurements, use quality material and paint with quality paint.