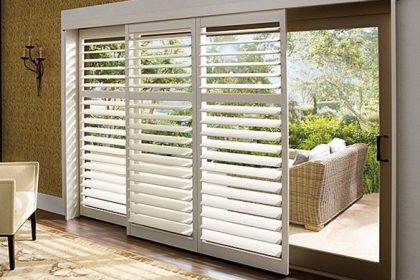 We at Liberty Shutters receive many questions from our clients: Can we install Plantation Shutters in Sliding Doors? What are the benefits of Plantation Shutters on Sliding Doors? and other questions about Plantation Shutters for Sliding Doors.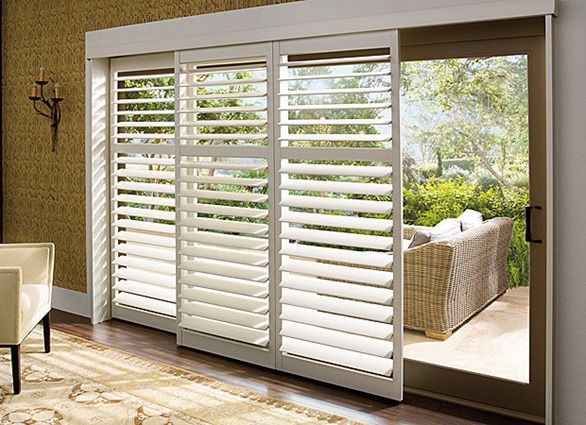 Plantation Shutters for Sliding Doors – A Perfect Blend of Style and Functionality
The Allure of Plantation Shutters for Sliding Doors
When it comes to enhancing the beauty and functionality of your sliding doors, plantation shutters offer a unique and captivating solution. With their elegant design and versatile features, these shutters have gained immense popularity among homeowners and interior design enthusiasts. In this article, we will delve into the world of plantation shutters for sliding doors and explore their numerous benefits and design possibilities.
Aesthetic Appeal meets Practicality
Plantation shutters for sliding doors strike the perfect balance between style and functionality. Their timeless design and versatility make them an excellent choice for any home decor. Let's take a closer look at the key features that make these shutters a favorite among homeowners:
Customizable Design Options for Every Style
They come in a wide range of design options, allowing you to customize them to match your interior decor. Whether your style is modern, traditional, or eclectic, you can find shutters that seamlessly blend with your aesthetic preferences. From various materials and finishes to different slat sizes and colors, the design possibilities are virtually endless.
Enhanced Privacy and Light Control
One of the primary benefits of plantation shutters for sliding doors is their ability to provide enhanced privacy and light control. The adjustable slats allow you to regulate the amount of sunlight entering your space while maintaining your desired level of privacy. You can effortlessly tilt the slats to block direct sunlight or angle them to let in a soft, diffused glow.
Improved Energy Efficiency
In addition to their aesthetic appeal and practicality, plantation shutters for sliding doors offer excellent energy efficiency benefits. These shutters act as an extra layer of insulation, helping to keep your home cooler in summer and warmer in winter. By reducing heat transfer through the glass, they contribute to energy savings and create a more comfortable living environment.
Durability and Longevity
Investing in plantation shutters for sliding doors means investing in durability and longevity. These shutters are crafted from high-quality materials such as hardwood, vinyl, or composite, ensuring their ability to withstand daily wear and tear. Unlike curtains or blinds that may need frequent replacement, they are built to last, providing you with long-term value for your money.
Increase Your Home's Value
Installing plantation shutters increases your home's value since they are considered a fixed item on the property, and this will figure into the overall value. Plus, homebuyers tend to appreciate them over typical window coverings because they look amazing!
FAQs
Here are some frequently asked questions, along with their answers:
Q Are plantation shutters suitable for all types of sliding doors?
Yes, plantation shutters can be customized to fit various sliding door configurations, including patio doors, French doors, and large glass panels. They offer a versatile solution for different door sizes and shapes.
Q Can I install plantation shutters on my own, or do I need professional assistance?
While it is possible to install them yourself, it is generally recommended to seek professional assistance. This ensures proper measurement, precise installation, and optimal functionality of the shutters.
Q How do I clean them?
Cleaning plantation shutters is relatively easy. You can use a damp cloth or a mild cleaning solution to wipe away dust and debris. Avoid using harsh chemicals or abrasive materials that could damage the shutters' finish.
Q Do plantation shutters require regular maintenance?
Plantation shutters are low-maintenance window treatments. Periodically dusting or wiping them with a damp cloth is usually sufficient to keep them clean. Unlike curtains or blinds that require frequent washing or replacement, plantation shutters maintain their beauty and functionality with minimal maintenance.
Q Can plantation shutters be used in high-humidity areas such as bathrooms or kitchens?
Yes, they are an excellent choice for high-humidity areas. However, it's essential to choose materials such as vinyl or composite that are moisture-resistant and can withstand the conditions in bathrooms and kitchens. These materials are less prone to warping or damage from moisture.
Q Are plantation shutters child and pet-friendly?
Absolutely! Plantation shutters are a safe option for households with children and pets. Unlike blinds or curtains with cords, shutters don't pose entanglement hazards. Additionally, their sturdy construction makes them durable and resistant to damage caused by playful pets or curious kids.
Conclusion
Plantation shutters for sliding doors offer a perfect blend of style, functionality, and durability. With their customizable design options, enhanced privacy and light control, energy efficiency benefits, and low maintenance requirements, these shutters are a practical and visually appealing addition to any home.
Whether you want to create a cozy ambiance, add a touch of elegance, or enhance the overall aesthetic appeal of your space, plantation shutters provide a versatile solution that caters to your unique needs and preferences.
So, if you're looking to elevate your sliding doors and transform your living space, consider investing in plantation shutters. They not only add a touch of sophistication but also offer practical benefits that contribute to a comfortable and inviting home environment.