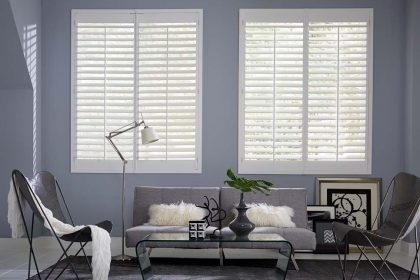 They've been around for hundreds of years. They were used on 18th century plantation mansions which were built in derivative forms of classical architectural styles. Hence, the name that was used…That said, my main reason for suggesting that plantation shutters are NOT out of style is that they serve an effective function in addition to looking good.Few window treatments offer the flexibility in light control like plantation shutters.
While you might think the aesthetic was out of date, even that is subjective because most people love plantation shutters for their places, you can't argue with how functional they are. Traditional shutters had tiny louvers, many small shutters panels that folded accordion style and hooks and knobs to latch. With old fashioned shutters in mind, you may have never considered decorating your windows with interior shutters. Luckily today's shutters have gotten some updates since Grandma's day.
Current shutter design trends range from traditional to modern and can either make a statement or blend in with decorative molding. Plantation Shutters are sought after by home buyers and renovators for their built-in look, long-lasting durability and boost to home resale values. Plus, did you know that interior shutters are great for energy efficiency and light control as well?
These popular options are so well liked partially because homeowners are able to easily customize their look and have shutters that will perfectly fit their windows.
This is especially true when you work with a company that will come to your home and custom-measure your windows for you.
Plantation shutters look amazing but will also benefit your home in a few ways. Since they are great at keeping out the light from the sun, they will keep your home cooler during the summer and lower your electric bill. This will also protect your flooring, art, and upholstery from being faded by the sun.
They are also incredibly durable and built to last. With no strings that will tangle or fray and no fabrics to worry about fading, these are sturdy pieces of art that will improve the appearance of your home and last for a very long time as long as you care for them.
Because these shutters are generally left behind when a homeowner sells the house and moves, they can actually be factored into the price of the home. This means that they will actually increase the value of your property.