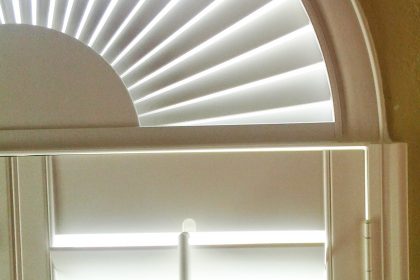 Plantation Shutters on Arched Windows. Do you have beautiful arched or special shape windows in your home? Are you wondering how to dress them? Well look no further than planation shutters, the ideal window dressing solution. Arched windows in one's home have always been associated with an air of gravitas and royalty. And so they should be dressed accordingly.
Windows come in all shapes and sizes, not just rectangles and squares. Modern homes are complete with ornate specialty shaped windows in half-circle, angle top, and elliptical designs. While these windows add a touch of sophisticated interior design, they also present a unique challenge. How can you find blinds, curtains or shutters that fit an irregularly shaped window? In many cases, finding the right window treatment option can be difficult because whenever you find a covering style you like, you can't find the shape you need. The solution is actually pretty simple when you purchase custom-fitted plantation shutters. This is a long-term fix that complements the style of your home, while adding a high-end covering for the arch window. What are interior plantation shutters and how can they be used in your home?
Our custom-made shutters are a perfect way to enhance the shape and design of your windows rather than blocking the shape, something which would occur with blinds or curtains, shamefully covering their magnificent appearance. With our shutters you can maintain their regal appearance and still have all the flexible benefits that come with them.
All of our shutters are manufactured to fit the measurements we take and come in a massive variety of colours and materials so all tastes and wishes can be met. We also go that extra mile if you can't see that loud pink on our set list of colour options. We use a colour match system electronically to find that tone of pink you so desire, if pink is your thing.