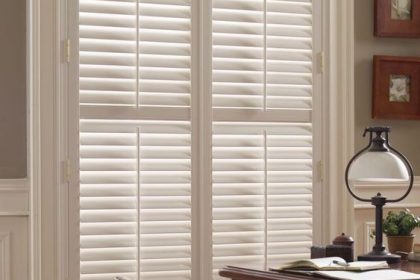 WHY SHUTTERS?
Nothing can improve the look and feel of your home like plantation shutters. Liberty Shutters is the premier source for custom window shutters in US.
SHUTTERS BLOCK LIGHT
Shutters are actually one of the better window dressings for controlling the light in a room and can create a very dark environment when fully closed. Compared to blinds and curtains, shutters are far more effective at light closure.
SHUTTERS BLOCK HEAT
The way most of that sweltering summer heat comes inside your home is through your windows. By installing a window treatment designed for energy efficiency, like plantation shutters, you can greatly reduce the ambient temperature in your home this summer. Keep the shutters closed during the daytime to block the sunlight and heat, then open them at night to allow for the cooler airflow to permeate through your house.
How Long Do Shutters Last?
In today's economy, many homeowners also want to be sure that the window coverings they choose have value. When it comes to comparing the value of draperies, blinds and plantation shutters, plantation shutters win hands down. Their long life means that homeowners get greater satisfaction and added value for home resale than any other window covering option. Plantation shutters are by far the most low maintenance window covering available. Depending on the shutter manufacturer and the material of the shutters, they can be expected to last for 10-25 years. Liberty Shutters can last decades with minimal care by the owner. Our Shutters won't be damaged by the sun's harmful rays since they are UV resistant, and can't be damaged by water or steam in high moisture areas. Their greatest advantage is for those who seek energy efficiency and control over both light and airflow into their homes.