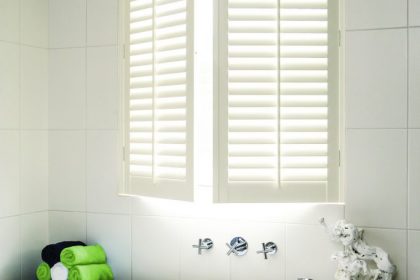 Are you looking to elevate the aesthetics and functionality of your bathroom windows? Look no further than plantation shutters for bathrooms. These elegant window coverings not only add a touch of sophistication to your space but also provide optimal privacy and light control.
In this comprehensive guide, we will delve into the world of plantation shutters for bathrooms, exploring their benefits, installation process, maintenance tips, and frequently asked questions. Discover why plantation shutters are the ideal choice for transforming your bathroom windows into stylish and practical focal points.
Plantation Shutters for Bathrooms – A Stylish and Functional Solution
Plantation shutters have long been revered for their timeless beauty and versatility. Their unique design, characterized by wide louvers, allows for effective control over natural light, ventilation, and privacy. When it comes to bathroom windows, plantation shutters offer several advantages that make them a preferred choice for homeowners.
Style and Elegance
Plantation shutters add an instant touch of elegance and sophistication to any space, including bathrooms. With their clean lines and customizable finishes, these window coverings effortlessly complement various interior design styles. Whether your bathroom boasts a modern, traditional, or eclectic aesthetic, plantation shutters can seamlessly integrate into the overall decor, enhancing the visual appeal of the room.
Privacy and Light Control
Privacy is paramount in bathrooms, and plantation shutters excel at providing a perfect balance of privacy and natural light. By adjusting the louvers, you can easily control the amount of light entering the room while ensuring that your privacy remains intact. The adjustable slats allow you to maintain a pleasant ambiance without compromising on your personal space.
Moisture Resistance
Bathrooms are often subjected to high humidity levels, which can be detrimental to certain window coverings. However, plantation shutters are designed to withstand such conditions. Crafted from durable materials like vinyl, PVC, or composite wood, these shutters are highly resistant to moisture, making them ideal for bathroom environments. They are less prone to warping, peeling, or discoloration, ensuring their longevity even in damp conditions.
Ventilation and Airflow
Proper ventilation is crucial for maintaining a fresh and hygienic bathroom environment. Plantation shutters enable you to regulate the airflow by simply adjusting the louvers. You can tilt them to allow a gentle breeze to enter the room while maintaining privacy, or fully open them to enjoy maximum ventilation during steamy showers or baths. This versatility ensures a comfortable and airy atmosphere in your bathroom.
Installing Plantation Shutters for Bathrooms – A Step-by-Step Guide
Installing plantation shutters in your bathroom may seem like a daunting task, but with the right tools and guidance, it can be a rewarding DIY project. Follow these simple steps to ensure a successful installation:
Gather the Necessary Tools
Before you begin, gather the tools required for the installation process. These typically include a measuring tape, drill, screwdriver, level, pencil, and mounting brackets. Ensure that you have all the tools on hand before you proceed.
Measure your Windows
Accurate measurements are crucial for a seamless installation. Use a measuring tape to measure the height, width, and depth of each window where you plan to install the plantation shutters. Take measurements at various points to account for any irregularities.
Choose the Right Shutter Style and Material
Consider the style and material that best suits your bathroom's decor and functional requirements. Plantation shutters come in various styles, such as full-height, café style, or tier-on-tier, each offering a different level of privacy and light control. Additionally, you can select from materials like real wood, faux wood, vinyl, or PVC, depending on your preferences and budget.
Prepare the Windows
Ensure that the windows are clean and free from any dust or debris before installation. This will ensure a smooth and secure attachment of the shutters. If necessary, clean the windows thoroughly and allow them to dry before proceeding.
Mount the Frame and Attach the Shutters
Begin by installing the mounting brackets onto the window frame or wall, following the manufacturer's instructions. Once the brackets are securely in place, attach the frame of the plantation shutters to the brackets. Ensure that the frame is level and aligned correctly.
Adjust the Louvers and Test Operation
After the shutters are attached, adjust the louvers to your desired position and test their operation. Open and close the shutters to ensure smooth movement and proper functionality. Make any necessary adjustments to the tension screws or louver connectors to achieve optimal performance.
Finalize the Installation
Once you are satisfied with the installation and the functionality of the plantation shutters, secure any loose screws and tidy up the surrounding area. Clean the shutters with a mild cleaning solution and a soft cloth to remove any fingerprints or dirt accumulated during the installation process.
Remember, if you are unsure about the installation process or prefer professional assistance, it is recommended to consult a qualified window treatment specialist or hire a professional installer to ensure a flawless and efficient installation of your plantation shutters.
Contact Liberty Shutters Today
Maintenance Tips for Plantation Shutters in Bathrooms
To keep your plantation shutters in optimal condition and prolong their lifespan, it is important to follow these maintenance tips:
Regular Cleaning
Regularly dust and clean the shutters using a soft cloth or duster to remove any accumulated dirt or debris. You can also use a mild cleaning solution or a mixture of water and vinegar to gently wipe the surfaces. Avoid using harsh chemicals or abrasive cleaners that can damage the shutters' finish.
Handle with Care
When adjusting the louvers or operating the shutters, handle them with care to prevent any unnecessary strain or damage. Avoid excessive force or rough handling that could lead to loosening or misalignment of the components.
Inspect for Damage
Periodically inspect the shutters for any signs of damage, such as loose screws, cracked louvers, or warped panels. If you notice any issues, promptly address them to prevent further deterioration and ensure the shutters continue to function properly.
Protect from Moisture
Although plantation shutters for bathrooms are designed to withstand moisture, it is still important to protect them from excessive water exposure. Wipe off any water spills or splashes immediately to prevent moisture from seeping into the material and causing damage.
Check Hardware and Adjustments
Regularly check the hardware, such as hinges and tension screws, to ensure they are secure and functioning correctly. Make any necessary adjustments to maintain smooth operation and prevent any issues from escalating.
Professional Inspection and Maintenance
Consider scheduling periodic professional inspections and maintenance for your plantation shutters. Window treatment specialists can assess the shutters' condition, make any required adjustments or repairs, and provide expert advice on proper care and maintenance.
By following these maintenance tips, you can ensure that your plantation shutters for bathrooms remain in excellent condition and continue to enhance your bathroom's aesthetics and functionality for years to come.
Frequently Asked Questions (FAQs)

Q: Are plantation shutters suitable for all types of bathroom windows?
A: Yes, plantation shutters can be customized to fit various window shapes and sizes, including standard windows, arched windows, sliders, and even skylights.

Q: Can plantation shutters withstand high humidity levels in bathrooms?
A: Absolutely! Plantation shutters are specifically designed to resist moisture and are an excellent choice for bathrooms with high humidity levels.

Q: Are plantation shutters easy to clean?
A: Yes, plantation shutters are relatively easy to clean. Regular dusting and occasional wiping with a mild cleaning solution are usually sufficient to keep them looking fresh.

Q: Can I install plantation shutters myself, or should I hire a professional?
A: While plantation shutters can be installed as a DIY project, it's recommended to hire a professional installer for precise measurements and seamless installation, especially for complex window designs.

Q: How long do plantation shutters typically last?
A: With proper care and maintenance, plantation shutters can last for many years, offering durability and longevity compared to other window coverings.

Q: Do plantation shutters provide complete blackout for bathrooms?
A: While plantation shutters can significantly block out light, they may not provide complete blackout. However, you can adjust the louvers to control the amount of light entering the bathroom.
Conclusion
Plantation shutters for bathrooms offer a winning combination of style, privacy, and functionality. They elevate the visual appeal of your bathroom while allowing you to control natural light, ventilation, and privacy with ease. With their moisture-resistant properties and customizable design options, plantation shutters are an ideal choice for transforming your bathroom windows into elegant and practical focal points.
By following the installation and maintenance tips provided in this guide, you can ensure the long-lasting beauty and performance of your plantation shutters. Whether you're looking to revamp your bathroom's interior or enhance its functionality, plantation shutters are a versatile solution that will continue to impress for years to come.
So why wait? Consider adding plantation shutters to your bathroom and enjoy the perfect blend of style and functionality they bring to your space.