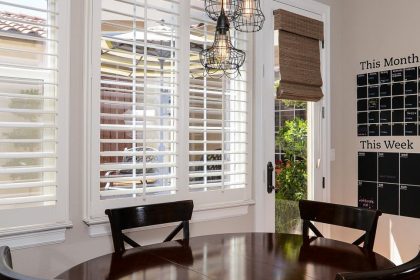 Aesthetics. Interior shutters are attractive. They come in a variety of sizes and finishes as well as mounting options. As an interior design choice, you can't go wrong by selecting wood plantation shutters. They fit in with just about any décor and offer a clean, cohesive look throughout the home. You can paint them white for a traditional look or go for a natural stain. Remember that plantation shutters are seen from both the interior of the home as well as the exterior. If the exterior of the home is dark, white plantation shutters might not look as nice as stained ones from the outside. If the look of shutters feels too stark, you can also add fabric window treatments to soften the look…
Privacy. Interior shutters can be adjusted to let the light flow in, yet keep prying eyes out. This allows privacy as well as light. If you angle them in such a manner, you can even see out, but others won't be able to see in.
Ventilation. Not only can you adjust the plantation shutters for maximum privacy and control the light coming in, you can open up the windows, let the air flow in, and then adjust the shutters for maximum ventilation – all without compromising privacy. While you can do the same with blinds, open windows often pose a problem: rattling blinds due to the air flow. Solid plantation shutters don't have this problem. Shutters are the ideal choice because they make no noise. Blinds, shades, and other window treatments clank, bang, and flutter in the wind. In addition, shutters are easy to adjust. Simply grasp the crossbar and adjust the shutters.
Durability. Custom interior shutters are durable and built to last. In addition, Liberty Shutters come with a warranty. Because you won't need to replace your shutters every few years, your initial investment will pay off over time. If you figure the cost of shutters on a yearly basis, you may find that they are less expensive over the years than having to replace window coverings such as drapes or blinds periodically. Plus, plantation shutters never go out of style.
Easy to clean. Interior shutters are virtually maintenance-free. Use a damp cloth from time to time and wipe off the dirt, dust, and grime. In addition, you don't need to take them down in order to clean them as you would with other types of window coverings. A quick wipe down is all you need. The shutters have a larger surface area than venetian blinds making them much easier to clean.
Energy savings. Shutters are good insulators as well as perfect for deflecting sunlight. Energy bills will be lower with shutters installed.
Child safety. Plantation shutters do not have dangling cords or strings that children can get tangled up in, making them a safer alternative to venetian blinds and drapes. Families with small children and babies don't have to worry about their kids getting hurt in the window coverings when they have shutters installed. Shutters are a much safer alternative. One downside to consider is that children can easily open and shut the shutters due to the design. All they need to do is reach up and push or pull the crossbar.
Plantation shutters can help preserve the life of furniture and carpets. You can leave the shutters in the up or semi-closed position to direct the sunlight away from furniture and carpets. The UV rays of the sun cause materials to fade over time, which significantly affects their attractiveness and useful lifespan. In addition to fading, fabrics can degrade. By keeping furniture shaded, it will last longer and remain attractive and durable for years to come.
Plantation shutters can be used as room dividers or cabinetry. In addition to covering windows, shutters can also be installed over cutouts and niches in the home. For example, if a family room has a built-in TV niche that's no longer needed because of today's widescreen TV choices, consider using shutters as cabinet doors for an attractive new storage solution. Not only does this cover the hole in the wall and the clutter that's sure to accumulate there, it looks nice and blends into the rest of the home. Another idea is to use plantation shutters to bulk up half-walls and pass-throughs that your customers may not like. Adding shutters in this manner can provide added privacy and divide the space better, yet still allow light to go through and provide an airy feel to the room. In the case of a pass-through (such as between a kitchen and dining room), you can open the shutter doors when you need to pass something through and then close them again for privacy.