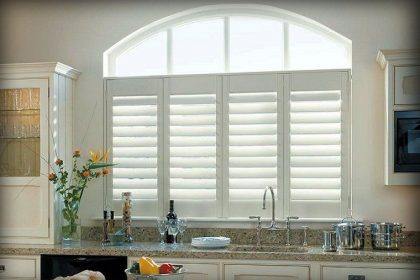 Plantation shutters, sometimes called plantation blinds, are interior shutters with wide louvers, usually 3-1/2 to 4-1/2 inches wide. They're the most popular type of shutter across the country, but particularly in the warmer Southern and Western states.
The larger louvers give the shutters an elegant look, which works well in dining rooms and bedrooms. But these versatile window treatments also translate to casual rooms like dens and kitchens. The most popular color is white, but stained shutters have their followers, too.
Plantation blinds come in three types of material, vinyl, composite and wood. Here's a breakdown of each, to help you determine which is best for your home.
They've been around for hundreds of years. They were used on 18th century plantation mansions which were built in derivative forms of classical architectural styles. Hence, the name.
Just because they're old doesn't mean they're always in style, right?
That's true. Just because a style or effect or design was used hundreds of years ago doesn't mean it's worth using today. Take, for instance, the way kitchens were separated and relegated to some remote part of the house one hundred years ago (and beyond). Nobody wants that these days. Most kitchens are large and serve as a focus in the home.
That said, my main reason for suggesting that plantation shutters are NOT out of style is that they serve an effective function in addition to looking good.
Few window treatments offer the flexibility in light control like plantation shutters. While you might think the aesthetic is out of date, you can't argue with how functional they are.
Trend Chart
When looking at the trend chart, it appears "plantation shutters" as a search term online is trending slightly downward, but that was a few years ago after reaching it's most popular era. It's flat-lined for now which means while it's not trending upward, it's sufficiently popular so as to not be "out of style".