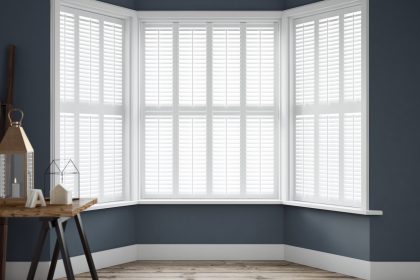 oday, Plantation shutters continue to gain popularity and are used in many home designs throughout the world. Why? Here are some reasons why they are so great and why you should consider using them in your home, starting with the reasons the Greek used them.
1. Light Control
These shades are built with panels that can tilt open and closed, allowing you to filter in as much or as little light as you need to. The flexibility of this is wonderful. And if you have multiple panels, you can choose how many you open or close.
2. Ventilation
A really good option with shutters is you can open your windows and adjust your shutters to let as little air in or as much as you want. If you really love to have your windows open, the advantage of having shutters is that they don't bang in the wind or make noise like blinds or shades do. They also don't blow all over like drapes do (unless you have a dramatic flair!).
3. Protection
Security – Shutters add an extra layer to your doors and windows, which add another layer of protection to your home, just like hurricane shutters protect the outside. There are also options to add locks to you shutters, which will deter anyone looking to get in easily.
Carpets and Furniture – The tilting ability of the shutters is, to me, by far its greatest advantage. Anything with fabric, which includes carpet and furniture, fade from the UV rays of the sun. After a few years, you will find yourself looking at that couch and wondering if you bought a red or dirty pink one! If you have carpets and furniture that you want to protect from the sun, yet you still want light to filter in and/or the fresh air flow, simply tilt the shades up when open and you will have beautiful looking fabrics for years to come!
4. Privacy
Have I mentioned that I do not like my unmentionables seen? Well, just as in being able to control the amount of light and ventilation coming in, you can also control the view you have out and the view others have in. In addition, some shutters are thick enough that they are a sound insulator as well, so they would block out my neighbor's dog barking at night!
5. Elegance and Aesthetics
This one goes without saying, but I'll say it anyway! I stated before that drapes add drama to a room, but that's just the thing. What if you don't want the drama? What if you didn't want to make a statement with your window treatments, but wanted to instead create a feeling of space and lightness? When you use shutters, that's what you do. They don't exclaim, "Look at me!" They instead do the opposite and allow you to appreciate them, while seeing the other pieces that want to be seen in the room, like art, lighting or furniture.
One other thing to note here is that if you have shutters to the front of your home, it adds to your curbside appeal. They look very elegant and clean.
6. Materials
Depending on your budget, you can buy more shutters that range from PVC, vinyl, aluminum or natural wood. Truth be told, I think that if you are going for shutters, you should choose either the PVC or the natural wood. PVC shutters today are made to look almost exactly like wood, and are definitely more cost effective. They can be stained to look like wood or painted depending on what your decorating style is. Wood shutters can be made with basswood, poplar, which are the lighter and softer of the hardwoods. Your higher end wood shutters are made of maple, walnut, mahogany, oak, cherry and alder.
7. Versatility
Do you know those bi-fold doors on your closet and pantry? They are very similar to shutters, minus the ability to tilt the slats. Plantation shutters can be made with bi-fold doors or by-pass doors for sliding glass doors or my French doors. These shutters can be custom cut to fit in arches and windows of any size and shape. I happen to have these shutters in my bathroom next to my Roman tub. They are made of vinyl, which is moisture resistant.
8. Allergen Friendly
My son has a terrible dust mite allergy. I cannot have drapes in his room or roller shades made from fabric. I am looking into installing custom shutters for his room because of the ease with which I can clean them. They are easier to clean than blinds because blinds are so flimsy and shutters have a larger surface area than blinds. The shutters only need to be wiped with a damp cloth.
9. Child Safety
Did I mention that these are cordless? No strings attached? The slats are tilted using a crossbar, which is so much safer than drapes dragging on the ground. Yes, I've had my kids slip and fall because of them! And the strings from the blinds seem to get wrapped around everything, including my son's Spiderman action figure. Shutters are streamlined and clean.
10. Energy Savings
Did you know that shutters can keep the cold as well as the heat out? They add another layer of insulation when it is cold and, if you live in the tropics like I do, they keep the room cooler when closed.
11. Cost Out/Cost In
If you do a cost calculation of getting shutters for your home, you will see something around $1,200-$4,000. This depends on whether you want to do it yourself or not. Realize that if you do it yourself, you will still have to have shutters shipped to you (pretty pricey) and will have to invest some time to install them.
Regardless of whether you do it yourself or have someone install them, Plantation shutters are an investment. But think about this: they are a permanent addition to your home. Chances are, if you install these and decide to move, you will not take them with you; therefore, they add value to your home, and will figure into the a higher property estimate. Also, the IRS states that installing shutters is a capital home investment! If the IRS claims that, I think it's safe to say they are worth it in the end!
One last thing to note here is that unlike drapes and blinds, these shutters will last for years and they never go out of style. So even though you may spend more money on the front end, later on you will save money not having to replace window treatments every couple of years!
If I hadn't already spent $1,000 in drapes, I would totally consider doing shutters throughout my home. I have three huge sets of French doors, and I love to let the light in as well as the fresh air. I think I'll start with my bedroom and my son's first and see how that goes!