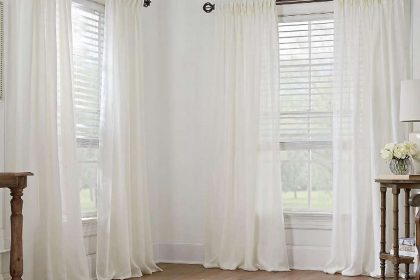 There are two paths to revamping your windows: ordering custom window treatments or shopping retail. Designers recommend the former because it cuts down on the risk of error, but you can go the DIY route if you're on a budget. A lot Retailers offer free in-home consultations and measurement assistance, and companies that specialize in window coverings, offer design guidance and repairs, too. "I think you'd be pleasantly surprised at what you can get at value-driven retailers."
No matter what your budget is, it helps to go in with a plan.
First, decide whether you want blinds, shades, shutters or curtains. "The better question is: What do you want to achieve? Do you want privacy, light control or aesthetics?" It's equally important to consider the room's core function (if you're designing a nursery, try blackout shades to ease daytime naps, for example) and the surrounding area. If you belong to a homeowners association, white shutters or blinds might be required.
Window Treatments
Plantation Shutters
Plantation shutters are very popular in Florida because they are versatile, offer privacy and are quite easy to handle. They have been used in the USA for over a hundred years & are well known for being of better quality than any other window treatments such as curtains.
Windows Blinds
The Window Blinds come closer to simulating the look of real wood than any of other faux wood blinds. Available in a variety of on-trend finishes that include sandblasted and stained colors with faux wood-grain textures, these blinds give you the look of real wood at a fraction of the cost.
Window Shades
There are many different kinds of shades available from honeycomb to roller to roman and more. Shades are a beautiful and soft way to dress up your windows and doors while adding character and style to your rooms.
Curtains
Hand picked from around the world, our fabrics are all quality tested before they are entered into our collections. With hundreds of choices you're sure to find something that's right for you.