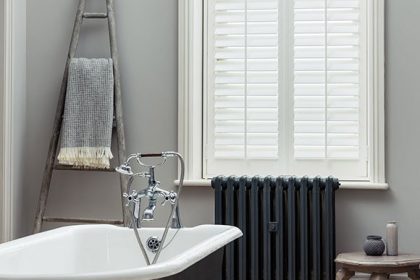 Why are Plantation Shutters Perfect for Winter? Well there are a lot of reasons.
Careful choice of window treatments could result in massive savings on your power bill this winter. Energy efficient window coverings help to reduce the transfer of heat through the glass, which means that your heaters don't have to work so hard maintaining a comfortable and even temperature inside your home.
Many people live in areas where both the winters and the summers are severe. And while energy efficient homes are a hot topic, modern heating (and cooling) systems are often powered by gas or electricity. This means that the inevitable energy bills are nasty. Unfortunately, there's not much getting around it: to maintain comfortable and healthy homes we have become too reliant on our heaters and air-conditioners. With electricity prices at record highs, it's tricky to maintain a home that's both budget-friendly and environmentally safe.
Keep your home warm this winter without compromising on style or your electricity bill. Shutters are able to control the perfect amount of light and temperature for those cold days creating no need for heaters.
Leading company, Liberty Shutters specialises in the design, manufacture and installation of superior quality, custom-designed Plantation Shutters which provide insulation from the cold by adding an extra layer of warmth and protection from the elements during the colder months. In addition to their excellent insulation properties, shutters add undeniable charm to any home or office space. Their classic design compliments both modern and traditional decor, making them an elegant addition to any design style.
Our shutters are most commonly used as a window or door covering, and are also a practical and elegant solution as an internal divider. The aluminium security shutters are designed and manufactured to be the most stylish and strongest adjustable louvre security shutters on the market and are suitable for both internal and external use.
Investing in shutters is the smart and practical way to give your home a 'face lift' without renovating the entire property, and it's a perfect way to add instant all round value. They can be used define areas within a home, enclose an outdoor area for multi-use and are a stylish and robust way to secure your home. The shutters can be opened or closed completely, with adjustable louvres able to suit personal preference. Ideal for controlling light, the shutters are rigid and will not rattle in the breeze, providing privacy from the outside world, whilst still allowing light and airflow in. So now we know plantation shutters are perfect for winter season.