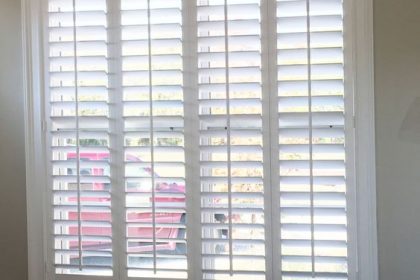 When you have a beautiful home, you want to have window and door treatments that enhance the beauty and value of your house. I may have studied interior design, but I will always be a student, and will always be looking for ways to improve what I do. In a previous post I listed different ways you can cover your French doors for privacy which can be substituted for windows as well. One of the ways listed is using Plantation shutters, so I decided to do some research about these babies.
What exactly are Plantation shutters and why are they all the rage these days? These shutters have origins in ancient Greece, where they were made of marble and were used for light control, ventilation and protection. They spread to the Mediterranean, France and Spain, where they started making shutters out of wood. The Spanish brought the shutters to the American South by the 18th and 19th century. They became popular in the design of the manors in huge plantations that grew sugar, coffee, cotton or tobacco (which is why we call them Plantation shutters).
Today, Plantation shutters continue to gain popularity and are used in many home designs throughout the world. Why? Here are some reasons why they are so great and why you should consider using them in your home, starting with the reasons the Greek used them.
Energy savings. Shutters are good insulators as well as perfect for deflecting sunlight. Energy bills will be lower with shutters installed.
Child safety. Plantation shutters do not have dangling cords or strings that children can get tangled up in, making them a safer alternative to venetian blinds and drapes. Families with small children and babies don't have to worry about their kids getting hurt in the window coverings when they have shutters installed. Shutters are a much safer alternative. One downside to consider is that children can easily open and shut the shutters due to the design. All they need to do is reach up and push or pull the crossbar.
Easy to clean. Interior shutters are virtually maintenance-free. Use a damp cloth from time to time and wipe off the dirt, dust, and grime. In addition, you don't need to take them down in order to clean them as you would with other types of window coverings. A quick wipe down is all you need. The shutters have a larger surface area than venetian blinds making them much easier to clean.
Durability. Custom interior shutters are durable and built to last. In addition, Alltone Shutters come with a warranty. Because you won't need to replace your shutters every few years, your initial investment will pay off over time. If you figure the cost of shutters on a yearly basis, you may find that they are less expensive over the years than having to replace window coverings such as drapes or blinds periodically. Plus, plantation shutters never go out of style.
Privacy. Interior shutters can be adjusted to let the light flow in, yet keep prying eyes out. This allows privacy as well as light. If you angle them in such a manner, you can even see out, but others won't be able to see in.
Ventilation. Not only can you adjust the plantation shutters for maximum privacy and control the light coming in, you can open up the windows, let the air flow in, and then adjust the shutters for maximum ventilation – all without compromising privacy. While you can do the same with blinds, open windows often pose a problem: rattling blinds due to the air flow. Solid plantation shutters don't have this problem. Shutters are the ideal choice because they make no noise. Blinds, shades, and other window treatments clank, bang, and flutter in the wind. In addition, shutters are easy to adjust. Simply grasp the crossbar and adjust the shutters.