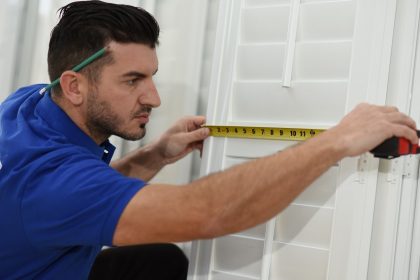 Liberty Shutters Team has made a research about importance of Plantation Shutters and we shortly will explain why you should buy Plantation Shutters for your home.
We will mention only 5 reasons why you should buy Plantation Shutters.
1. No cords or strings that can tangle (or harm a child).
We have heard one too many stories of children who get tangled in a cord from window coverings and it always freaked me out a little bit. Your house is child proofed, but having a busy toddler who likes to climb would never stop her from reaching those cords. We love that there is nothing for a child to hurt themselves on.
2. Your windows look fancy, even without additional curtains or valences.
Because the shutters comes in their own frame and look so polished, there is no need to spend additional money on curtains or drapes or any other kind of window hanging, which will save you a ton of money!! We just love how clean and stream-lined they look.
3. They let in tons of light when opened, but are like black out blinds at night.
During the day, We love to open them and let in as much light as possible, but as soon as the sun goes down, We don't want people to be able to see into our homes. We also love that they keep our houses darker in the morning, which helps kids to sleep in better (gotta love shutters that keep the light out!).
5. They are so easy to clean.
I remember when we were growing up that one day each summer was spent cleaning the blinds. My dad would unscrew them from the window, then my mom would carry them outside and we had to scrub them down. We then had to hang them to dry – it was an all day event. Now, You just close the shutters and dust them off- it literally takes seconds.
5. Energy efficient.
One thing we have noticed is how well they insulate our home. Our windows tend to get drafty, but they are awesome at keeping the heat in and the cold out (and vice-versa in the summer!).