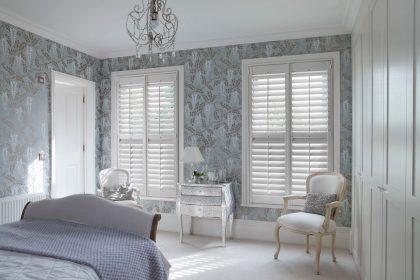 Welcome to our comprehensive guide on finding the perfect plantation shutters near me. If you're looking to enhance the aesthetic appeal and functionality of your windows, plantation shutters are an excellent choice.
In this article, we'll delve into the world of plantation shutters, providing you with valuable insights, tips, and advice to help you make an informed decision and find the best plantation shutters near you.
What are Plantation Shutters?
Plantation shutters are a timeless window covering option known for their elegant and sophisticated look. These interior shutters feature wide louvers that allow you to control the amount of light and privacy in a room. Unlike traditional blinds or curtains, plantation shutters offer superior durability and insulation, making them a popular choice among homeowners.
Benefits of Plantation Shutters
Investing in plantation shutters near me brings numerous benefits to your home:
Enhanced Aesthetics
They add a touch of elegance and charm to any room, complementing various interior design styles effortlessly.
Increased Home Value
These shutters are considered a valuable addition to your home, enhancing its resale value and attracting potential buyers.
Light Control and Privacy
With adjustable louvers, you can regulate the amount of natural light entering your room while maintaining privacy.
Energy Efficiency
Plantation shutters provide excellent insulation, helping to keep your home cool in summer and warm in winter, potentially reducing your energy bills.
Easy Maintenance
Compared to other window coverings, they are easy to clean and maintain, requiring minimal effort.
Finding the Best Plantation Shutters Near Me
Research Local Suppliers
To find high-quality plantation shutters near me, begin by conducting thorough research on local suppliers. Look for reputable companies with a track record of providing excellent products and services. Read customer reviews and testimonials to gauge their reliability and customer satisfaction levels.
Evaluate Material Options
Shutters are available in various materials, including wood, vinyl, and composite. Each material has its unique characteristics and benefits, so it's important to evaluate your options carefully. Consider factors such as durability, moisture resistance, and aesthetic appeal to choose the right material for your needs.
Measure Your Windows
Accurate measurements are crucial when ordering window coverings. Take precise measurements of your windows to ensure a perfect fit. If you're uncertain about the measuring process, consult a professional to avoid any errors.
Consult with Experts
Consulting with experts like Liberty Shutters can provide valuable insights and guidance. Reach out to our designers and window treatment specialists who can offer expert advice tailored to your specific requirements. We can help you select the right style, material, and color, to complement your home decor.
Request Samples
Before making a final decision, request samples from different suppliers to assess the quality, color, and finish of their products. Seeing and feeling the materials in person will give you a better idea of what to expect and help you make an informed choice.
Installation and Maintenance
Professional Installation
While some homeowners may opt for a DIY installation, professional installation ensures a seamless and accurate fit. Hiring a skilled installer will save you time and effort, ensuring that your plantation shutters are installed correctly and functioning optimally.
Routine Maintenance
To keep your them in pristine condition, establish a regular cleaning routine. Dust the louvers regularly and wipe them down with a damp cloth when needed. Avoid using harsh chemicals or abrasive materials that may damage the finish.
Conclusion
Congratulations! You're now equipped with the knowledge to find the best plantation shutters near me that fit your lifestyle and budget requirements.