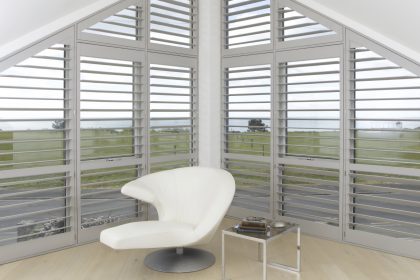 In general, plantation shutters should cost you approximately $20 per square foot. Labor costs depend on factors such as the contractor's workload, remoteness of the location, environment, and the contractor's overhead.
They are one of the more expensive window furnishing available. However, they also last longer than other window furnishings. If you are considering good quality plantation shutters on the Central Coast expect to pay anything from $400 to $600 a square metre. Other additional charges could be for bi-fold, sliding or anywhere else where it requires extra work and componentry. Aluminium Plantations Shutters are slightly more expensive than Wood Plantations Shutters or PVC Plantation Shutters. When you consider your plantation shutters could last you 10 years or more it's worth investing in the best quality you can afford.
Shutters can be a bit pricier than other shutter styles, like board and batten or flat panel.
Shutters are often thought of as a luxury product. Perhaps a purchase made with the heart and eyes rather than the head and the wallet in mind! Yet while shutters' initial cost is similar to top-end curtains or blinds per metre, the value is far more. When asking yourself are shutters expensive? Consider the following:
Plantation Shutters are a life-long purchase. They will not warp, bleach or fade; they are not subject to the same mould, moth or other damage that curtains, fabrics or untreated wooden blinds are.