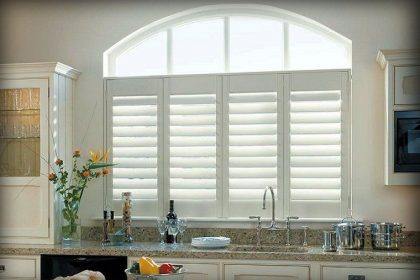 Why Kitchen Shutters?
When it comes to kitchen window treatments, shutters make an ideal choice. Unlike kitchen blinds and drapes, which can get damp or retain smells, shutters are low maintenance, flexible and easy to wipe clean.
Dressing your kitchen windows can be tricky. Small Windows, sinks with taps in the way, cupboards either side of the window – all of these can present challenges when deciding whether blinds, curtains or indeed plantation shutters are right for kitchen windows. Cooking smells. With fried food smells or other airborne cooking smells around, curtains act like a sponge and are therefore not suitable to cover windows in kitchens.
As such, we have many customers who select custom made plantation shutters for their kitchen windows. Every order is bespoke, custom made to fit the window and the style of kitchen the customer has. Above all, shutters for kitchen windows are very practical, clean and easy to maintain.
If ordering shutters for a kitchen window from us, all ranges we sell will work perfectly. Our shutters are treated to ensure they remain stable in different temperatures – therefore, heat from a kitchen environment would not cause any issues.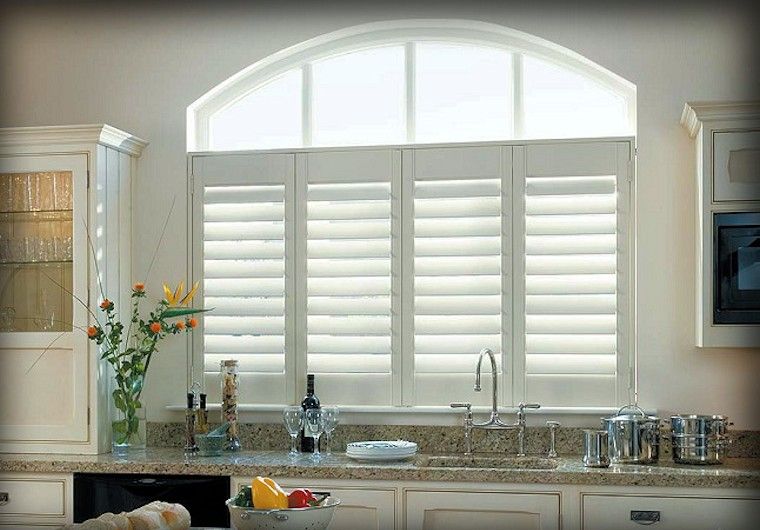 As shutters cover the whole window, they offer an extra level of security to your room. Many of our customers add a lock so they can leave their window open while keeping the house secure. This works especially well on balmy summer evenings, or if you leave your pet in the kitchen while you're out. Aside from all the practical benefits, there's no denying that kitchen shutters look stunning and add style and character to your room. Whether you opt for painted wooden shutters, traditional solid panels or louvre shutters, it's easy to make your kitchen window a real design feature.