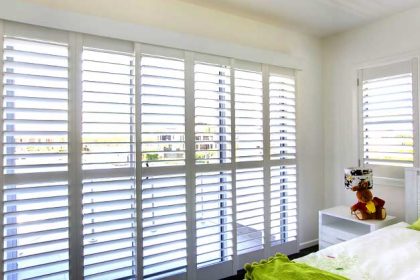 If you have considered plantation shutters, but you didn't think it was possible due to the very large size of your windows then look no further. Do your large uncovered windows make you feel awkward? Do you worry about your privacy being invaded by outside onlookers? It may be one of the most overwhelming feelings for a homeowner with oversized windows to decide how they're going to furnish them.
Impossibility is not in the vocabulary for a Liberty Shutters artisan. Our team is passionate about working with beautiful woods and take great pride in knowing these shutters will be enjoyed and appreciated by our customers for many years to come. When it comes to Liberty Shutters craftsmanship we have a multitude of wood plantation shutters to choose from which can be custom fit to any size window.
If you considering plantation shutters on larger windows in your home, you should look at shutter brands that can make shutter panels larger than 30 inches wide. If a shutter company can make wider panels, chances are they make their shutters from the strongest materials and use a great joinery system. Also, if they can make a larger shutter panel imagine the strength of their smaller shutters.
Larger, wider windows usually use 2 or more shutter panels. Custom shutters can be made in many configurations, it's best to locate certified shutter dealer to help in the design process.