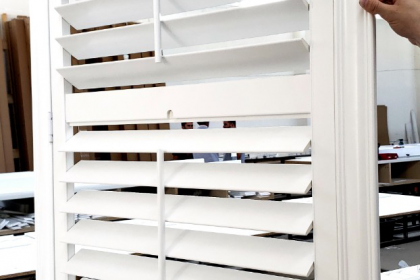 Plantation shutters are built-in window treatments that are affixed to the window casement, thus they become a distinctive architectural feature within the home. The shutter is made with horizontal slats that are mounted on a solid frame and have the ability to tilt.
Outside mounted shutters are typically chosen when the main purpose is light or air control within the room, and to add additional privacy. Plantation shutters cannot be raised and lowered like shades and blinds.
Advantages of Plantation Shutters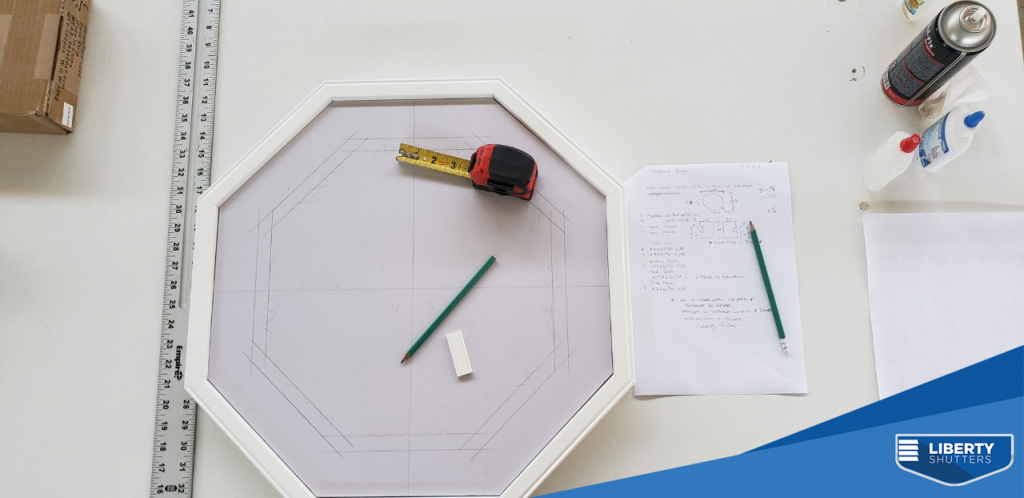 Using Plantations Shutters for Light Control
The adjustable louvre blades make controlling light within your home easy with plantation shutters. The blades can be angled up or down to allow light to enter, but also allow you to focus light away from furniture or decorations to help prevent damage from sunlight. When closed plantation shutters will block out as much light as a standard pair of curtains. If you need to sleep during the day, have a south facing room or just prefer total darkness to sleep, then a blackout shutter will shut out maximum light and can be ideal in a bedroom or child's nursery.
Privacy and security with plantation shutters
Angling the louvre blades to allow light to enter but keeping prying eyes out can provide both privacy and security for your home. When away from home plantation shutters can be left angled this way so that any lights or radios left on timed can be seen and heard, creating the impression that there is someone home. As an added deterrent you could fit a catch or lock to the inside of shutters to prevent them easily being opened.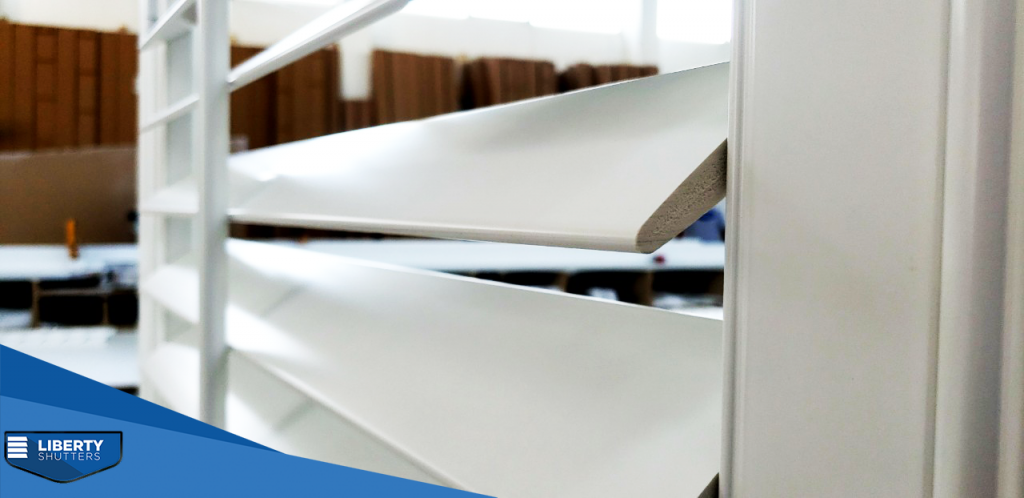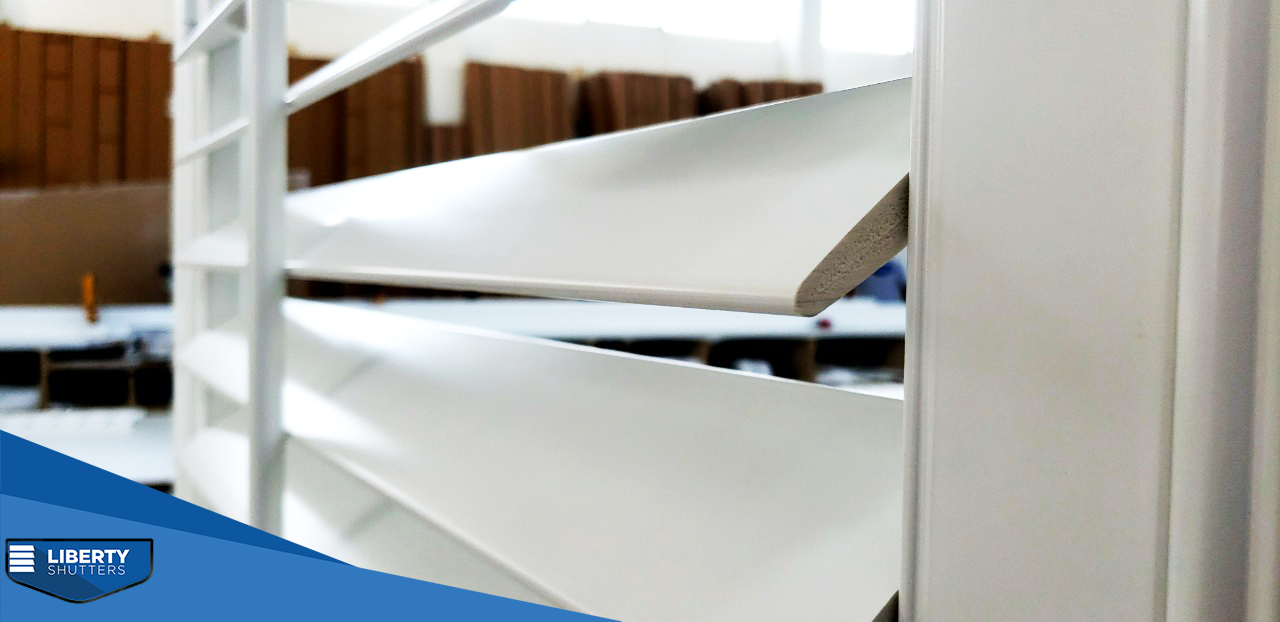 Where you have a view you don't want to completely cover but want to prevent those outside from seeing into your home you can always install a half-height or café-style shutter, which will only cover the lower half of your window. This allows excellent light levels, an uninterrupted view from the top half of the window, but maintains privacy.
Shutters are durable
Shutters are hardwearing and durable, and as they are often only opened when the windows need cleaning there are fewer issues of wear and tear.
Louvre blades can be easily replaced, and can also be adjusted from a small screw to tighten or loosen the louver operation to suit your personal preference, and reduce damage occurring through use.
Shutters are easy to care for and dust reducing
Plantation shutters can be easily maintained, with no need for professional cleaning. Each shutter can be dusted, and wiped clean with a damp cloth when necessary, to maintain their appearance. Dust can be removed to prevent it building up or being harboured in materials, helping those who have allergies such as asthma and need dust levels minimised.
Insulation assisted by plantation or solid shutters
As plantation shutters can form a solid barrier between the window and room they can help to insulate your property and prevent heat loss when louvers are closed. The louvers closure is designed to help reduce heat leaking out of your home.
Remote control shutters
It's now possible to have remote control plantation shutters, making it easy to control light entering from any windows that are difficult to reach such as on stairs or over doors. These are also ideal for someone who is bed-bound but likes to control the light entering their room, or great if you want to control your shutters from the comfort of the sofa! Ideal for those who like their gadgets, or want a quick easy way of opening the shutters in the morning – its all done with the press of a button saving time and effort.
Keeping out furry friends with Shutters
Plantation shutters are also a great way of allowing air to circulate in your room but ensure that pets are unable to get out of patio doors, or for those who are not thrilled when the neighbour's cat waltzes in it's a great way of keeping out unwanted animals!
Stylish and timeless shutters
While plantation shutters can be an investment for your home, they can also add value. Matching shutters in each window creates a consistent look for your home, and as interior window shutters are custom-made, they can be an attractive proposition for a potential buyer.
Plantation shutters are a timeless and elegant feature that will go with a range of decorations, which is one of the reasons they have become such a popular choice. Their ability to suit all styles means that they can look as wonderful in a modern home as they do in more traditional cottages or period homes. The benefits that interior window shutters offer have been enjoyed in Europe and America for many years, and it's surprising that it has taken us so long to finally discover this in the UK.
Summary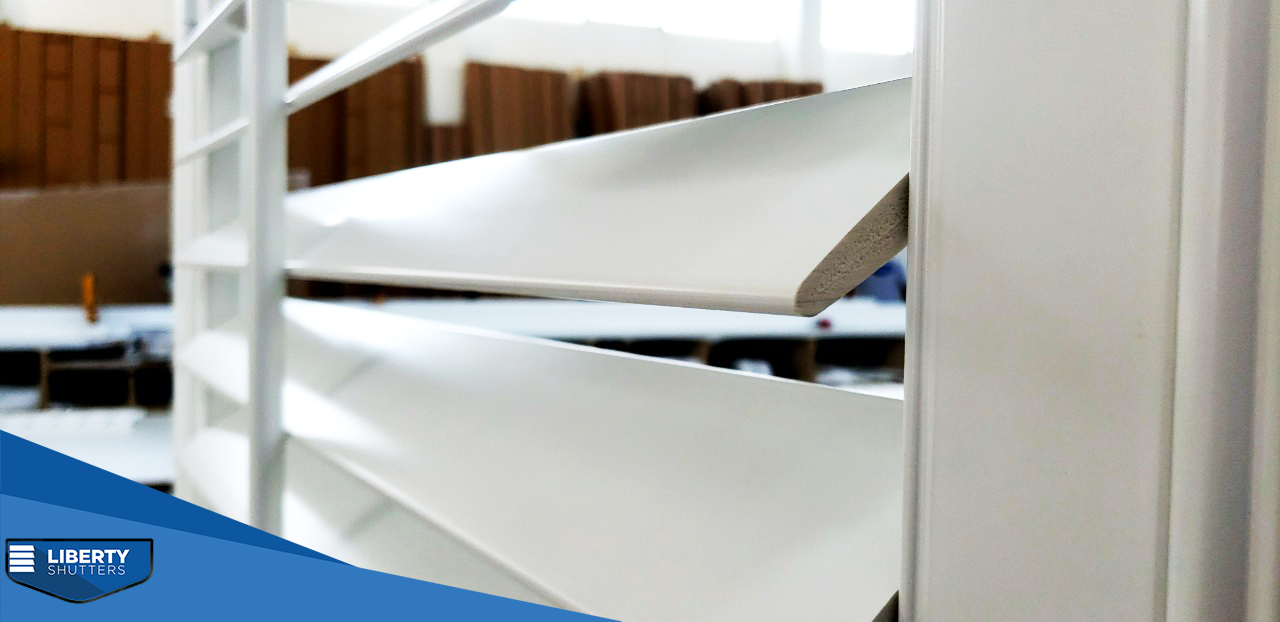 Article Name
Advantages of Plantation Shutters
Description
Advantages of Plantation Shutters