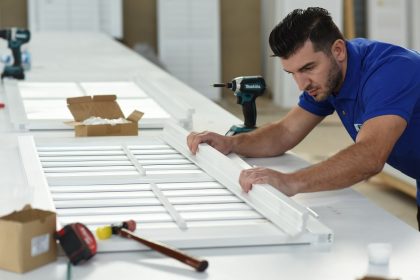 INVESTING IN A PLANTATION SHUTTER
10) LOUVER SIZE CHANGES THE ENTIRE LOOK
Knowing what you want the room to feel like when you are done is very important to your plantation shutter selection process. Do you want a contemporary feel, with clean, wide-open windows, or are you looking for a traditional feel in the home, with classic double-hung shutters? There are thousands of design options and we can guide you through the options, costs, and best sales in the industry.
LITTLE KNOWN FACT: WHY ARE THEY CALLED "PLANTATION SHUTTERS?"
You may hear or see the term "plantation shutters." Wood shutters are traditionally called plantation shutters because their size and look are often reminiscent of antebellum plantations in the American Southeast. Generally, this type of shutter is used on larger windows and has the largest louvers.
Louver sizes usually depend on the size of the window; larger windows can take larger shutters. Our design consultants can make recommendations for you to consider based on aesthetic and your personal taste. We even have a sample to place in your window with all three sizes in one. You can look through your windows from the street and see the improved curb appeal before you buy. Nothing beats an in-home consultation–and it is free.
9) INSTALLATION MATTERS FOR SEVERAL REASONS
You must have a qualified installer to ensure the shutters are installed in accordance with the manufacturer's requirements, or they might void the warranty. Attention to detail is important when installing wood shutters, so the frames are kept perfectly true and square, to avoid pinched hinges and stress on the shutter panel that can cause warpage.
Remember, the shutter is going to take 100% of the UV rays coming through your window. It has to be tough, to begin with, but when an inexperienced installer does not take the time to get the frame perfectly level, the shutter will ultimately bend to the new shape, causing cracks, warpage, and damage. You can avoid this and utilize the full warranty by choosing a dealer with factory-certified installers. The cost is negligible when compared to the 25-50 years that your shutter will last, fully covered under the manufacturer's Lifetime Limited Warranty.
8) SMALL UPGRADES MAKE A BIG DIFFERENCE IN THE FINAL LOOK
There are several fairly inexpensive upgrades to the shutter that can provide a big boost in the overall look and feel. These include shutter pulls, shutter locks, and hidden hinges, to name a few. There are images of these upgrades below and they can be added to the shutter for a nominal cost per door of around $25 (hidden hinges are more. They come in a brushed nickel finish that looks great against all of the whites, off-whites and really pops when putting on a stained wood shutter. The locks protect the shutter from the kids and those prying hands, while the pulls can even protect the shutter from the unknowing adult who might not know how to properly open the shutter door.
Panel Lock Upgrade
Panel Pulls add functional a decorative upgrade
Invisible Hinges add Contemporary Feel
7) MATERIALS MATTER IN PLANTATION SHUTTER CONSTRUCTION
Wood is the most traditional material used in plantation shutter construction, but there are several areas where wood is not the best choice for your shutter. Since it is susceptible to moisture and humidity, we don't recommend wood shutters (or faux wood) in the bathroom, attic, and garage.
MAIN TYPES OF MATERIALS IN SHUTTERS:
Polyresin 3® – Aa colorfast compound with UV stabilizers designed with strength and durability, yet retaining a special warmth and feel. Shutters will not warp, shrink, chip, peel, or fade and never need painting.
Basswood – An American hardwood that is ideal wood for many woodcarvers. The soft, fine, even texture of basswood makes it easy to work with, while its pale, inconspicuous color doesn't detract from the carved patterns of the finished product (which also makes it easier to paint and color). It is stable in service after it has been dried, and though the wood is both lightweight and soft, when put under stress, Basswood will remain stiff.
Phoenix Wood – A finely grained timber from the tree known as the "Tree of Eternity", offers rich, consistent wood characteristics and unparalleled resilience. Is also captures more carbon compared to other trees, and regenerates from the stump to be ready for harvest in 7-8 years.
We are manufactures of shutters and our free consultation will provide you with the best recommendation of cost, functionality, and cohesive style across all the brands to make sure your investment is protected and looks great for decades.
6) PLANTATION SHUTTERS CAN BE MOTORIZED
The advancements in motorized window coverings are improving your options exponentially in 2018. There are many reasons why investing in motorized window coverings make sense, including the fact the motors are becoming more reliable, more cost-effective, and more efficient, so the batteries last longer on a single charge.
Shutters can also be motorized to tilt open at a certain time of the day (imagine waking up to the automated shutters in your bedroom). And they can also be programmed to tilt closed during the heat of the day. This ensures the protection of your fabrics, carpets, and wood floors by blocking the UV rays every single day. The remote is very simple to program and operate, with one remote that can control all the shutters individually or all at once.
5) PLANTATION SHUTTERS ARE EASY TO CLEAN AND GREAT FOR ALLERGIES
Shutters are a great way to help allergy-proof your windows as recommended by this guide, "5 Tips to Allergy-Proof Your Windows." Wide 4 1/2″ louvers are also a great choice since shutters with large slats that are easy to vacuum and wipe down.
4) SHUTTERS ARE THE ONLY WINDOW COVERING THAT ACTUALLY STAYS ON THE APPRAISAL
"If you're going to put lots of money into a window treatment, my personal observation is that plantation shutters, very generic blinds, but the high quality will bring you the most money back on that investment."
3) KNOW-HOW MUCH QUALITY SHUTTERS WILL COST IN YOUR AREA
The worst mistake you can make in this process is to decide to invest in wood shutters for your home, only to purchase a low-quality shutter that will not stand the test of time. Plantation Shutters from national manufactures are tested, warrantied, and have stood the test of time for decades. Well known manufacturers like Liberty Shutters, Eclipse, and Timber all know what it takes to produce a quality shutter. Knowing how much a quality product should cost is also very important.
2) THE QUALITY OF SHUTTER PRODUCTION VARIES DRAMATICALLY, SO KNOW WHAT YOU ARE GETTING
Shutters can be made in your home town, in the USA, or overseas. You should know the specifics of what goes into your shutter and how it is made to make the best decision. You should ask what type of joinery the shutter doors are made with (dowels or mortise & tenon). There are also hundreds of wood curing and treatment options that can dramatically change the lifespan of your shutters, or cause them to warp prematurely, so ask how the wood is cured. Finally, the paint and finishing process is critical to keep the shutter looking great for decades.
#1) THE TOP UPGRADE FOR PLANTATION SHUTTERS
Hidden tilt rods are the top upgrade for our clients who purchase premium plantation shutters. There are 2 main ways of removing the tilt rod from the shutter door. The first system is called "Hidden Tilt" and it is the most conventional method and it has a steel connector on the street side of the shutter. It is very thin and hardly visible from either side of the shutter (but it is still present). A small screw then attaches to the steel rod and into each shutter slat. When you move one shutter slat, all of the slats open and close.
Below is a picture of a hidden tilt system, which eliminates the need for a room-facing tilt rod. Here is a link to an excellent Blog titled, "Center Tilt Rod vs. Hidden: Which Option is for You?" that explains in detail the advantages and disadvantages of each system.
Hidden Tilt Rod Upgrade
Hidden tilt rods are the traditional way of removing the front tilt rod and have been around for a very long time. Recently, several vendors have released upgrades to the hidden tilt bar, including Graber.